All of the talk lately about 'Occupy Wall Street,' 'Occupy Seattle,' occupy where ever…' reminds me some of the 'Hoovervilles,' of the early 1930s. I wasn't around in 1930, but my parents were (born in 1911 and 1914), and they spoke often about the Great Depression. It governed how they behaved in life, they both believed in the catchy phrase 'Use it up, wear it out, make it do or do without.' I don't want to jump into a political discussion, but it is a fact and no surprise to anyone that the economy in the U.S. is getting pretty desperate for many folks who want nothing more than to have a job and take care of themselves and their families.
When the economy was in desperate straights in the 1930s, many unemployed men lived in shacks in 'Hoovervilles,' around the country.
'Hooverville' was the name given to shack towns (homeless encampments) as a slam against the Republican party and President Herbert Hoover, who was held responsible for the economic crises of the Great Depression. Seattle's Hooverville, sprang up in 1931 along what was then and is now part of the Seattle waterfront, where Pier 46 is today. It was one of the longest lived Hoovervilles around the country and wasn't bulldozed until early 1941.
This 1930 Chrysler, outhouse, and laundry on the line is a local homeowner's whimsical display of yard art. Unfortunately, neighborhood kids have busted out the windshield, windows and headlights over the years, but he still keeps the lights on nightly. I love it!!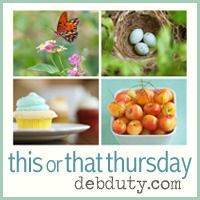 Click PHOTO to Visit Other This or That Entries
Click PHOTO to Visit Other 'Through a Photographers Eyes'
53 Responses to Hooverville?
The entire contents of this website are protected by international copyright and trademark laws. IMAGES ARE PROTECTED BY DIGIMARC. © 2008-2015 - You may link to this website, but permission is restricted to making a link without any alteration of the website's contents. Permission is not granted to reproduce, republish, reformat, transmit, distribute or download any materials (image , graphics, text or code) from this website regardless whether intended use is for personal or commercial interests without prior written consent from The View From Right Here. All rights reserved.